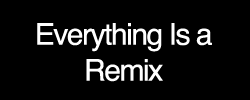 This video is a great example of taking something that on it's own doesn't mean much, and turning it into art. Using sounds from an operating system (in this instance, Windows XP and 98) and creating a piece of music from it really shows that you can make something from nothing. There are other versions that have been created using Mac OS and other Windows operating systems, but in my opinion this is the best one.
Lawrence Lessig is an academic in favour of free culture. Lessig's view is that having the freedom to freely modify and distribute works is the only way to promote creativity, as opposed to copyright laws which hinder it. One example of this is Creative Commons, which was founded by Lessig. This particular video created by people at American University focuses on fair use. Fair use permits use of copyrighted material without having to gain permission from the author/rights holder first. There are many different ways of using fair use, including for teaching, commentary and research. One thing that is important regarding fair use, is giving credit to the author/rights holder.

Fair use is important for creativity. It allows people to share and build upon existing works legally, as opposed to stifling this with copyright laws that essentially prevent anyone from doing anything other than looking at the work.

remixtheory.net is a brilliant resource to find out what's happening in the world of remix culture. Running as a blog type website, it has many categories showing just how wide and inclusive the realm of remix culture can be.

A supercut is a montage of clips that focus on one aspect of its sources. It is usually a word, phrase or action from a films or TV programmes. What is interesting about supercuts is their relevance to internet culture. Anyone can make a supercut quite easily, hence their popularity. Supercut.org is a website that tries to collect all known examples of supercuts, making it a great resource if you're looking for a particular one.


Nine Inch Nails is a band who have an anti-commercial stance on music, which is reflected in their activities regarding their music. There are two websites dedicated to users uploading and sharing their own remixes of NIN tracks, remix.nin.com and NINremixes.com. If yo register then you are able to upload your own remixes, and also download other peoples', creating a community of sharing and creativity amongst them.

The AVA Movement is another website where it is possible to remix songs, this time by the band Angels & Airwaves. Although it is a lot more limited than the Nine Inch Nails websites, it is still possible to freely download albums that have been remixed, as well as album art that has been created for them. In the forum there are also sections for sharing multimedia and covers of AVA songs.